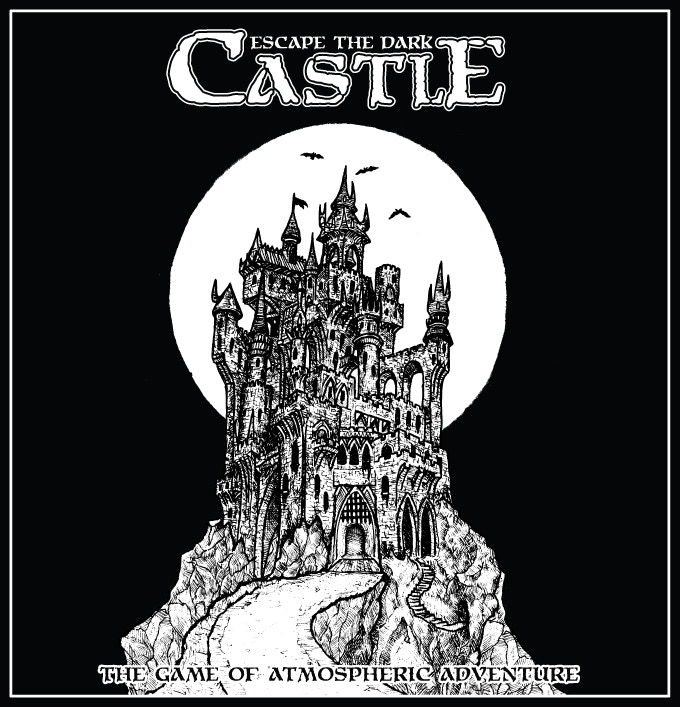 Escape the Dark Castle is a casual, cooperative adventure game with a focus on atmosphere, player cooperation, and fun – perfect for newcomers to tabletop gaming. It takes 2 minutes to set up, lasts around 30 minutes, and no two games are ever alike.
Players take the role of prisoners on a quest to Escape the Dark Castle, and must work together to overcome its many horrors, traps, and challenges - each of which is represented by a large, beautifully illustrated chapter card.
As these immersive chapter cards are revealed one by one, the game takes on the form of a shared storybook experience, with the players making decisions about what to do each chapter before using a combination of dice and item cards to complete challenges.
The game is largely inspired by 80s fantasy classics like the TV programme Knightmare, the Fighting Fantasy gamebook series, Dungeons & Dragons, and Heroquest, but you don't need to know what those things are to enjoy this game.



This game has simple rules so it's easy to learn. You'll be able to get started within about 5 minutes.





• It's approachable - The game is designed with non-gamers in mind, but is no less rich and rewarding for it. Now anyone can enjoy the atmosphere of a classic fantasy quest.


• It's quick - It takes 2 mins to set up and around 30 mins to play. No downtime, no elimination, and full player engagement throughout. No-one will be bored.

• It's social - Many chapters offer a compelling choice for the group, stimulating regular player interaction and discussion. It's perfect for the pub or a games cafe, but can even be played solo!

• It's different every time - You never know what the next chapter will be, so there is plenty of tension and suspense as your unique adventure unfolds each game.

• It has a unique look - So many games look alike these days. Here is something truly distinct for your collection. We've worked hard to create a stylish look evocative of retro classics.

• There are no heroes - The playable characters are refreshingly ordinary. No musclebound heroes or buxmon heroines here, and there is an equal mix of male and female characters.

• You choose your path - The decisions you make will change how each chapter turns out, and play a significant part in determining success or failure.

• It's the start of something big - We plan to add new chapters, characters, items and advanced rules to expand the game, not to mention taking you beyond the castle itself.

• You'll fall in love with fantasy (again) - By focusing on immersion, we've taken a tired, overused theme and created a refreshing, streamlined experience for everyone to enjoy.

This mod is for the Core Game + the Kickstarter Upgrade Kit - It doesn't include the expansions!

MODDER DISCLAIMER: The modder doesn't own ANY rights to the game and this port is just a work of passion for this beautifully made game. All the rights are reserved to the authors at Themeborne. This mod has the only objective to introduce the game to new players and give the possibility for owners of the game to be able to play online with their faraway friends.
This is an amazing game to be played online and even better in person. I tried my best to keep the high quality of the physical game in the mod.

Remember: IF YOU ENJOY THE GAME, BUY THE PHYSICAL COPY!
And if you enjoy my mods donate me a tabletop game :D
I hope you enjoy and have fun!





Credits:
Table 3d model by filthycent
Table Objects 3d models by Arjun Perayil
Highly inspired by the TTS Mod by DragonCrystal

Original Game Design: Thomas Pike, Alex Crispin, James Shelton Art & Graphic Design: Alex Crispin
Escape the Dark Castle © Copyright Themeborne Ltd 2016.